In this modern era, most business operation entirely depends on IT resources and technologies. As the business continues to grow, technical issues with the hardware and weaknesses in the network will be raising concerns in the IT environment of a business. Failure or technical issues of IT resources may reduce or halt the business operations leading to loss of time and money.  
Lack of human resource knowledge in solving such IT technology issues can also delay the business operations to a great extend.
With technological advancements, Data security is another concern that business organizations have to worry about with rising data threats.
So, what is the solution for all of these issues? Well, the answer is simple. Consult a managed service provider (MSP). A managed service provider dive in and take the heavy burden of knowing the business IT environment issues and provide efficient solutions. Now, let us see more about MSPs and their benefits for businesses.
What is a Managed Service Provider?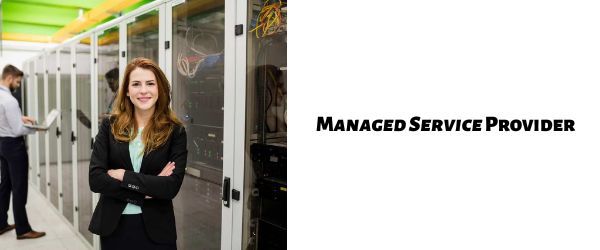 A Managed Service Provider delivers necessary outsourcing of technology services for clients IT environment to help cut charges and enhance business operations. MSP ensures to bring better efficiency and performance to the clients business IT infrastructure in the most cost-effective manner. Managed service provider frequently control management services on a daily basis, allowing customers to concentrate on enhancing their services rather than stressing about extended system downtimes or service disruptions. MSPs are hired by small and medium-sized businesses (SMBs), nonprofits, and government agencies to carry out a specific set of day-to-day management services. Network and IT infrastructure management, security, and monitoring are examples of these services.
What are the benefits of adopting a managed service provider in business?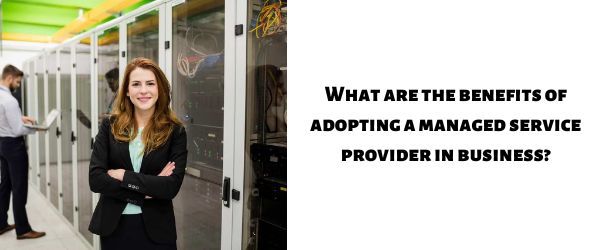 Access to experienced and skilled technical specialists
MSP helps business organizations access experienced and highly qualified specialized experts who can identify technical problems and provide appropriate solutions. The accessibility of specialized experts in various IT technology fields helps businesses resolve IT environment issues quickly. Even small organizations can access highly qualified personnel without recruiting them.
Managed service provider improves overall performance and efficiency of IT resources in a business resulting in better productivity. Quick and timely output results from IT resources helps to speed up business operations and improve productivity. In case of performance drop or failure of IT resources, MSP provides responsive technology services to maintain the productivity of the businesses.
For a fixed or monthly agreement, the business can benefit from unlimited IT support services from MSPs having specialized and experienced experts who are proficient in various fields of IT infrastructure.
As MSP provides support for an assortment of business clients with different sizes, infrastructure and industries, they seamlessly adjust their service offering to suit business requirements.
Flexible IT technology support packages
MSP works with a variety of vendors so they can provide flexible IT technology service support packages best suited to your business needs. MSP service support packages are flexible to adapt to business budget and IT technology service requirements.
Maintain business performance
MSP provides efficient IT resources management services to maintain business performance. MSP provide quick and timely service response in case of a performance drop in the IT resources or failure.
Mitigate business IT operational risks
MSP reduce IT operational risks in business with timely and responsive managed services from specialized talents. Periodical maintenance and performance checks by MSP reduce the operational risks associated with IT resources.
Reduced operational stress
Businesses can concentrate on serving their customers rather than get stressed and worried about IT resource failures or performance drops. Leave that to the MSPs, who ensures the smooth operations of the IT resources of the business.
Outsourcing the IT support services cut down costs for businesses rather than employing competent IT experts to run their IT operations. MSPs also save money for business with efficient utilization and optimization of available IT resources for better productivity.
Quick cloud infrastructure
MSPs have libraries of ready codes and knowledge to configure cloud infrastructure quickly for business. MSPs can deploy cloud solutions much quicker, saving a lot of time and money for a business.
MSPs helps to avoid downtime of business IT operations with efficient management of IT resources, continuous monitoring, maintenance checkup of IT resources,  IT support to protect and manage business data and more.
Benefit from the latest technology trends
MSPs have a team of experts who keep up with the latest technology trends and implement IT support services for businesses with those technology trends. The business organization can reap full benefits of the latest technology with MSPs
MSPs implement cybersecurity measures to protect the business data from data breaches, malware and other malicious threats. MSPs can anticipate and target data breaches even before they occur.
With effective data backup measures, disaster recovery measures and more, MSPs are able to prevent the critical data loss of business.
How do managed service provider work for business?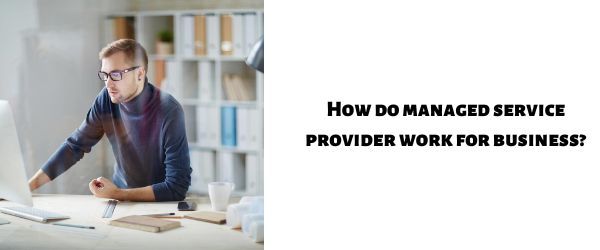 When a managed service provider is enquired to help an organization meet its business objectives, it is frequently expected to fill a gap or play a role in an IT system or staff. Typically, communication between the MSP and the organization starts with the analysis of the organization's current environment. This assessment may identify areas for improvement and how to best support business objectives.
MSP technical support fix services concentrate on remotely repairing or dispatching technicians to a business's location to resolve any issues. MSPs that offer this service charge the company for the time spent troubleshooting as well as any parts used to resolve the issue.
MSPs that provide a subscription service model focus on the network's quality of service and typically bill customers monthly. If a problem occurs, the MSP will resolve it as part of the agreement between the organization and the MSP. Subscription payments are based on predefined rates per computer or piece of equipment.
An SLA defines what the organization can expect from the MSP in terms of maintenance, security, monitoring, reporting, and other services. The service agreement also includes response times, performance, and security specifications.
What are the types of managed service providers based on business scales?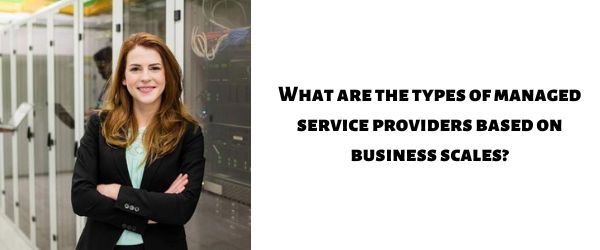 Small scale managed service provider - These are typically smaller managed service providers that focus on network and application performance monitoring. They provide their own native services for small scale business, which primarily focus on reporting and alerts.
Medium scale managed service provider - These MSPs typically target mid-sized businesses and corporations, and they frequently provide a wide range of services such as monitoring, reporting, and software installation and upgrades.
Large scale high level managed service provider - These are small and large scale providers who allow their clients to outsource as much of their IT processes as they require. High-level MSPs typically provide a wide range of managed services to all scales of businesses.
Various spectrum of business industries managed service provider serve are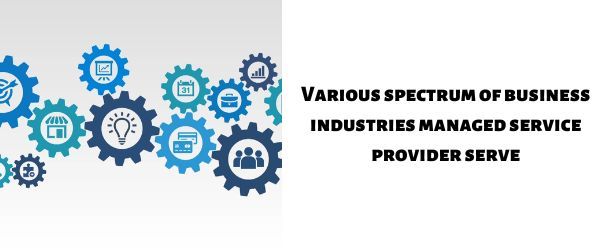 Small, medium and large scale IT corporates
Business Startups
Healthcare sector
E-commerce business
Media and entertainment business
Banking and finance sectors
Online Gaming business
Software development business
Online education business
Private or Public enterprise business
Radio streaming business
Video streaming business
Government companies
Online Booking business
B2B business applications
Website development and hosting business
Artificial intelligence business
IoT Engineering business
Business Email solutions business
Cloud based business
Mobile or Web application development and hosting business
Online Sales and marketing business
Product Engineering business
Cybersecurity business
Various types of services provided by best managed service provider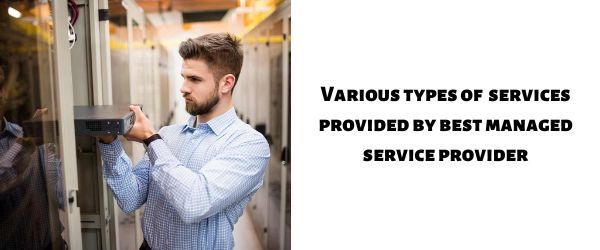 What pricing model do managed service providers use?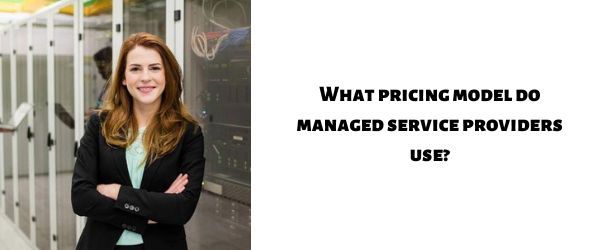 Pricing per device
The MSP charges a flat fee to the customer for each device it manages.
Pricing per user
The MSP charges a flat fee for each user, making it possible for users to use multiple devices.
Pricing is all-inclusive
MSP charges a one-time fee for IT infrastructure support and management.
Pricing as per customized service requirements
Organizations can select the service bundle that best meets their requirements. This is a popular pricing model among MSPs.
Pricing for monitoring only
MSPs only provide monitoring and alerting for a company's IT infrastructure.
Why choose HashRoot as the managed service provider for your business?
HashRoot is the most trusted Managed Service Provider that provides relevant IT infrastructure services tailored to the business organization expectations and requirements. Years of experience has built up the reputation values of the company as a top managed service provider among the competitors. The effective white label managed services of HashRoot has gained potential customers from across the globe.
Hashroot ensures to adopt best practices to render a wide range and scales businesses around the world with a high-performing, secured IT Infrastructure management environment. HashRoot is the most reliable managed service provider that provides secure and scalable managed services for a spectrum of industries.
Some of the other key specialized services includes managed security services, data center management services, infrastructure design services, cloud managed services, SaaS managed services etc. Optimal business performance, cost cuts, improved productivity, better data security are some of the key advantage factors the business can benefit from choosing HashRoot as their Managed Service Provider.
Contact Hashroot at https://www.hashroot.com/contact