Do the expenses of keeping up a strong IT infrastructure need to take off as your business moves forward? The appropriate response is straightforward: No.
However, every business owner does need an overall realization of their technology expenses. As with any investment, it is important to know how it is being utilized and what is received in return.
With the ever-increasing importance of IT across all industries and domains, most businesses have begun to leverage Managed Services to increase their ROI. MSP takes the time to explore IT gaps that are pain points, provide clear visibility into the workforce, mitigate risk, and cut expenses for businesses now and in the future.
How does an MSP add financial value?
Compared to in-house staffing, partnering with an MSP is generally much more financially savvy. Let's take a look at how Managed Service Providers cut organizational costs and promote ROI.
Infrastructure expenses
Can managed services cut down infrastructure costs? Yes, a Managed IT provider lessens infrastructure costs in a number of ways. When your infrastructure is controlled by an MSP, you are able to downsize the infrastructure you have on-site. You not only save the cost of the hardware but also see savings on licensing, training, and consulting. With MSPs, infrastructure expenses grow less and are covered by a single, monthly investment.
Free-up in-house resources
All too often, in most of the organizations, we witness IT resources deal with resolving user issues or handling defects, consuming a lot of time and effort. Incorporating the services of an MSP to handle the tasks and functions of your IT environment, your business can not only simplify IT operations but also utilize your in-house resources to focus on core business and further improve your ROI.
Strengthened business continuity
It is obvious that the organizations around the world are struggling to improve productivity and strengthen cybersecurity. Cyberthreats are on the rise and downtime resulting from cyber-attacks can create a direct impact on the revenue, even putting business continuity at risk. To combat cyber threats, MSPs offer 24/7 monitoring and they anticipate, identify, and address security risks before they can cause disruption to business.
Predictable monthly budget
Every investment in business demands outlying costs. However, with MSPs, you are free to decide on a fixed monthly service plan that's customized to meet your precise business needs. You can optimize the amount you pay for the services availed, by either choosing pay-as-you-use or conventional pricing models.
Economy of scale
Technology grows at an exceptionally quick pace, and to stay competitive with the current IT trends, MSPs offer scalable solutions that can accommodate rapid changes. One of the best things about MSPs is that they are scalable as you add more workforce or if you're not using a certain application you can easily get rid of it. In short, MSPs offer flexible solutions to enable businesses to stay abreast of the latest technology and innovations.
Let's go through a rough calculation of the costs - In-house vs MSP
Let's analyze how much it costs while you choose to outsource managed services when compared to in-house staffing.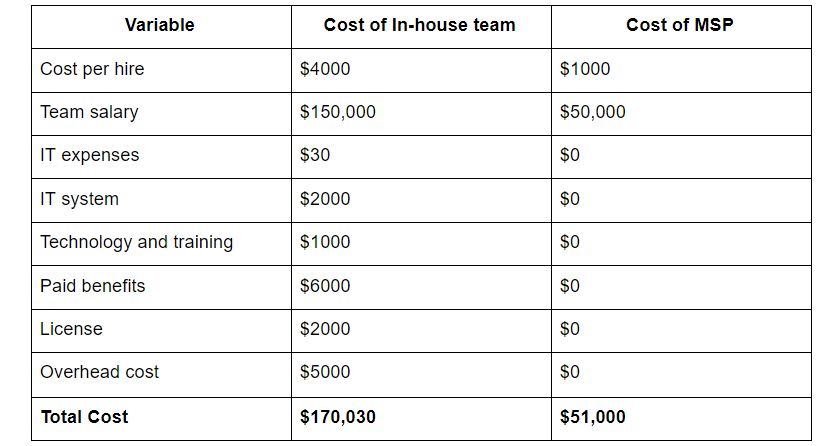 Even though the cost varies according to the project type, complexities, and services availed, you won't need to spend a significant part of your budget setting up infrastructure when partnered with MSPs.
Now, looking at ROI
On the whole, the above-mentioned benefits of Managed Service Providers combine to enhance ROI by creating a high-performing, reliable, and scalable IT environment.
While cost savings can legibly be seen in the above table, ROI is still an important metric to consider. With over 12 years of experience in offering managed services, we have witnessed our clients, seeing an overall 60% increase in ROI per average investment and they came up with an appreciable annual benefit.
Why Prefer HashRoot As Your MSP?
No matter what use case your business adopts, HashRoot's comprehensive Managed Services are strategized to focus on solutions that maximize operational efficiency, minimize operational costs, and safeguards your enterprise.
Are you looking forward to getting the best ROI from the IT investments you make? Visit https://www.hashroot.com/ to explore our turnkey solutions and submit a form to discuss your project.